Marifrán Carazo: "IFMIF-DONES will have a multiplier effect for the arrival of new companies"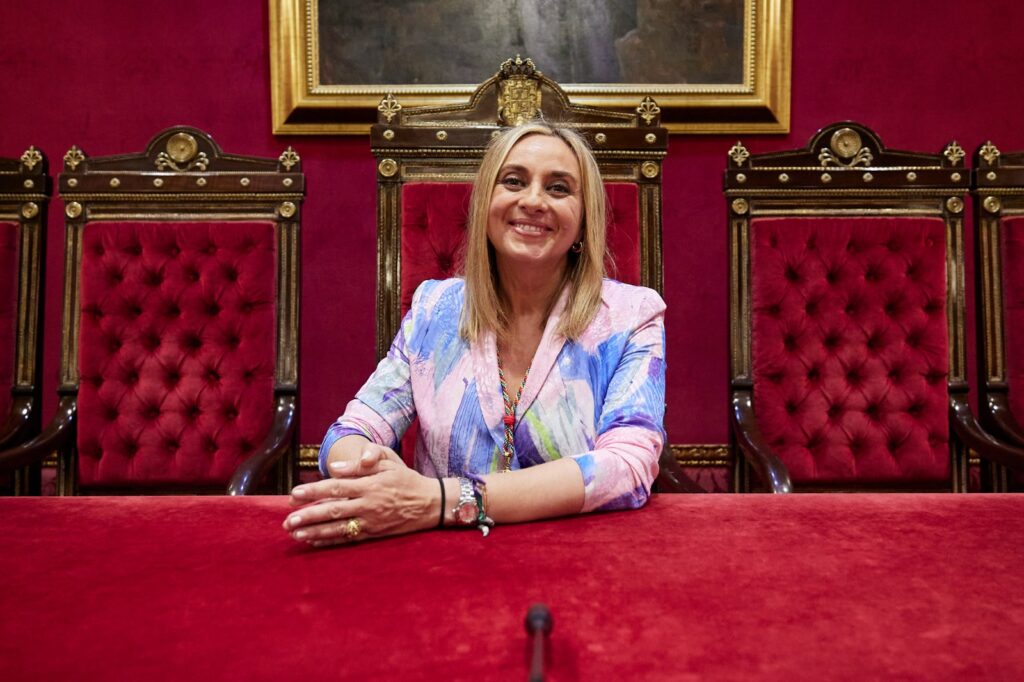 The first female mayor of Granada, Marifrán Carazo, considers talent a cornerstone in her roadmap. For this reason, she wants to "attract and retain" knowledge in a city where the University of Granada is essential, weaving alliances to form a Technological Pole and offering confidence to companies. In this plan, the particle accelerator plays a decisive role.
QUESTION: You know IFMIF-DONES very well due to your time as a Regional Minister for Development. Now, as female mayor, what do you expect from IFMIF-DONES?
ANSWER. Granada is experiencing significant scientific and technological development, making it one of Europe's great capitals in these two fields.
I hope that IFMIF-DONES will ultimately consolidate the change in the productive model of Granada towards the technology, science and knowledge industry and that it will also serve as an economic dynamic that will attract jobs, investment and wealth, both to my city and to the province so that Granada will be a driving force for its growth within Andalusia as a whole.
Q. How can Granada exploit its global positioning by hosting a major international scientific infrastructure?
A. I highlight two aspects. On the one hand, the attraction of talent, where a scientific infrastructure such as IFMIF-DONES can help attract and retain highly qualified talent in Granada. Researchers and scientists willing to use the infrastructure would be motivated to settle in the city, which can boost the growth of the local scientific and technological sector.
On the other hand, we have economic development, i.e. an infrastructure such as IFMIF-DONES in Granada will significantly impact the economic development of the city and the region. It can also generate scientific support, logistics and scientific tourism. In addition, the influx of international researchers and scientists will boost demand for local services and stimulate the local economy.
Q. As female mayor, what do you ask of Granada's technological and scientific ecosystem?
A. To promote scientific dissemination and bring science and technology closer to society. Organise events, conferences and educational activities so citizens can learn about scientific and technological advances and understand their impact on society. Encourage innovation and entrepreneurship in the technical and scientific ecosystem of Granada. Support the creation and growth of startups and technology-based companies, providing incubation programmes, coworking spaces and access to funding. Promote collaboration between companies, universities and research centres to boost the transfer of technology and knowledge to the business sector.
But, above all, it should serve to retain all this emerging talent that comes out of our University, the University of Granada, so that our young people do not have to leave but instead find their city attractive to live in, which, in turn, would create a pull effect to retain talent from Granada.
P. A month ago, 150 companies participated in the R+Dones Forum. What message do you have for the companies and workers coming to the city because of its link to the particle accelerator?
A. Confidence, confidence to come to Granada and establish themselves. The stability that we are going to achieve in the city, where we are going to govern with a sufficient majority to allow us to make Granada grow in the direction we want it to go at the same pace as Andalusia as a whole, should be an impulse for all these companies to want to look to our city to invest.
Q. What consequences will the Strategic Plan for IFMIF-DONES, which you promoted as Regional Minister for Development, have for the city?
A. The main consequence will be the multiplier effect that this project will have on the arrival of new companies, which is why the Junta de Andalucía has backed this Strategic Plan. IFMIF-DONES will have a significant impact on national and regional economic activity due to the expenditure that will be undertaken for its development, as it will increase the demand for goods and services directly, indirectly and induced in most sectors and, therefore, will lead to an increase in production, employment and Gross Value Added. Likewise, being led by the European Union, this impact will benefit several European countries, Spain, specifically Andalusia and, above all, Granada. In Granada alone, production is expected to grow by 1,945 million euros, with almost 12,000 new jobs.
Q. The President of the Junta de Andalucía stated that IFMIF-DONES promotes the vision of Andalusia as a technological pole. Will the alliance of Granada with other cities, such as Malaga, be one of your most determined commitments during your mandate?
A. I already spoke during the campaign about the Granada I-Quantum' project, an urban ecosystem for the development and innovation of the artificial intelligence and quantum computing sector, in which all the agents and institutions involved, both public and private, will be able to collaborate in the development of ideas and projects. Granada must be synonymous with innovation and the future. For this reason, we propose alliances with other cities, such as Malaga in this case, to enable the development of the Technology Park.
This commitment will be a transversal movement covering different strategic points for Granada. The increase in employment in the technology sector that this collaboration entails will allow us to retain the talent we generate year after year, recover professionals who have gone to other territories in search of an opportunity, and attract talent from other areas.
It is vital to continue working hand in hand with the University in this field and with the significant technology companies in the area of quantum computing.