Granada now has an Industry Office to promote the Particle Accelerator business ecosystem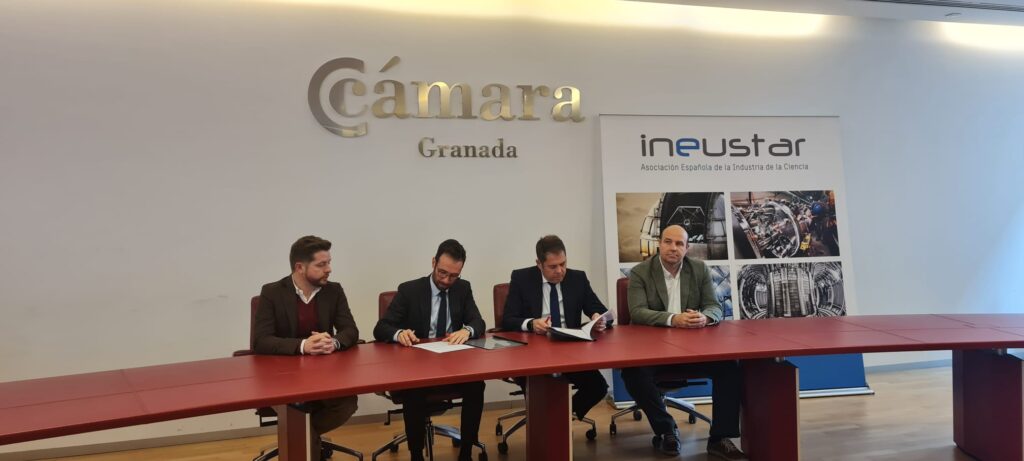 Granada now has an Industry Office to promote the business ecosystem linked to the IFMIF-DONES Particle Accelerator.
This information was announced today by the president of the Granada Chamber of Commerce, Gerardo Cuerva, together with the general director of the Spanish Science Industry Association (Ineustar), Erik Fernández, who signed the agreement that set it up. The deputy director of the IFMIF-DONES España Consortium, Moisés Weber, and the project's technical office coordinator, José Aguilar, also participated in the event.
Cuerva stressed that "if the IFMIF-DONES project is important for its research into the energy of the future", for Granada the impact in terms of economic growth and employment will come about "if we manage to generate a business ecosystem that turns Granada into a world centre for industry linked to science and scientific research".
In this sense, the Granada Industry Office is an infrastructure – initially located in the Granada Chamber of Commerce – which, in the words of Gerardo Cuerva, will act in two directions: "On the one hand, helping local industry in Granada, some of whose companies will not be adapted, to do so, to adapt, and to be able to work on the project, and on the other, of course, attracting companies from outside Granada".
Erik Fernández stressed that "as of today", the office is working on informing companies about the needs of the Particle Accelerator, but also "about the opportunities they have to train for this challenge".
In any case, Fernández stressed the impact and "the transforming capacity" of the accelerator for Andalusia and Granada", which will be able to boost their economy through high added value companies" while allowing Spain to continue to be a relevant country in the science industry in Europe, "where we are the second country with the second largest volume of contracts in the ITER organisation".
The president of the Granada Chamber of Commerce concluded by highlighting the commitment of "the business institutions" of Granada to the Ifmif-Dones project ", which we have been discussing since at least 2014".
"The different administrations and governments are taking steps to make the Accelerator a reality; what we are saying today is that from the business sector, we are also putting our pieces in place so that IFMIF-DONES can transform the economy of Granada", he pointed out.