Interview with Antonio Moreno, engineer at IFMIF-DONES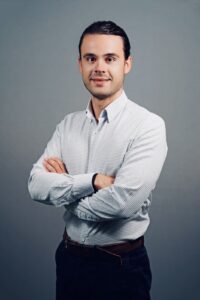 The solid international background of Antonio Moreno Cortés (Churriana de la Vega, Granada, 1988) is matched by the enthusiasm shared by the entire IFMIF-DONES team.
A graduate of Civil Engineering from the University of Granada, he worked in the UK for a decade, where he has now obtained specific certifications in project management
and engineering. 
QUESTION. What are your responsibilities at IFMIF-DONES
ANSWER. Currently, my responsibilities are very varied. I participate in the team that manages the integration of design changes, centralisation and distribution of important information. I also coordinate the realisation of several documents for the project implementation and define work packages to be executed by the collaborating countries.
Q. You have been involved in numerous international engineering projects. Is the particle accelerator in Escúzar (Granada) a turning point in your career?
A. Throughout my professional career, I have always wanted to get involved in increasingly complex projects: ports, bridges, railways, airports, etc. In this sense, IFMIF-DONES is a considerable boost, as it is absolutely pioneering, involving many international agents, even in its financing. Taking on something that has not been done before is a challenge. Simultaneously, it is challenging, as it allows us to apply what we have learned in other international initiatives.
On the other hand, it allows me to return to my country and city after many years abroad.
Q. Large Infrastructures change territories. What can we expect from a Large Infrastructure like IFMIF-DONES?
A. Today, even though it has not yet started its official construction, DONES is already transforming the territory with new variants of road access and being a magnet for numerous industries settling in Escúzar.
This is only the beginning. Once the infrastructure is up and running, numerous ancillary industries will locate in the surrounding areas. In turn, the demand for transport, housing and services will grow, which will be a boon for nearby towns. It will also be necessary to improve critical elements for the region, such as air connections, high-speed rail, new university courses, etc… 
Q. One of your professional concerns is the development of new techniques with less environmental impact within engineering. How will they be applied in IFMIF-DONES?
A. As a unique infrastructure with strong institutional support, cutting-edge processes or technologies are being implemented, which in other projects are more challenging to provide due to resource or budgetary constraints.
Currently, the infrastructure is being designed taking into account its construction and optimal maintenance, expansion and subsequent dismantling. We are currently working on implementing virtual reality and BIM methodology, which will help us minimise the material resources needed and better control the elements, maintenance needs and waste
of our facility. We also want to implement predictive maintenance and digital twin elements, which will serve to train personnel and optimise maintenance needs.
We are also in constant contact with the University and the industrial sector, creating collaborations to study alternatives with less impact as new developments appear.
Q. In the current debate on clean and efficient energy sources, do you see fusion energy as the great hope for global sustainability?
A. Absolute independence from fossil fuels seems impossible today, especially in the current global political climate. Thanks to technologies such as fusion, future generations will see the present energy scenario as a thing of the past.
Fusion energy is the great hope as it will allow us a degree of energy independence that neither our country nor our continent currently enjoys or even envisions. Fusion will generate energy on a large scale and complement other clean energy sources.
The availability of a clean and almost unlimited energy source, such as fusion, will make other sectors of the economy, major energy consumers, sustainable, such as transport. Expanding the sustainability of many sectors will be one of the most important consequences of the development of commercial fusion energy, as well as reducing pollutant emissions.
Q. What would be your wish for the commercialisation of fusion energy?
A. More funding for fusion, not just for individual projects like ours. This is the only way to make commercial fusion a reality sooner than expected. News like the one this December about the net gain of inertial confinement fusion energy achieved in the US will help us to attract more attention to these projects.