Antonio Arrabal: "The generosity of the people of Escúzar holds out a better future for humanity" 
We interviewed Antonio Arrabal, Mayor of the town of Escúzar, about the challenge that hosting the IFMIF-DONES particle accelerator facility represents for the town, as well as the transformation and changes that this town in the Alhama region is already undergoing.
Arrabal indicates that his mayor's office is committed to renewable energies. Charging points for electric cars have been installed in the municipality. An agreement has also been signed for the creation of an energy community in Escúzar, and the installation of photovoltaic panels for self-consumption on their roofs is facilitated to the residents. In addition, it is committed to keeping the traditions and customs of its community alive. Every year workshops are organised to learn how to make hachos (esparto grass), hornazos (typical bread for San Marcos) or embroider ribbons for the patron saint's celebrations.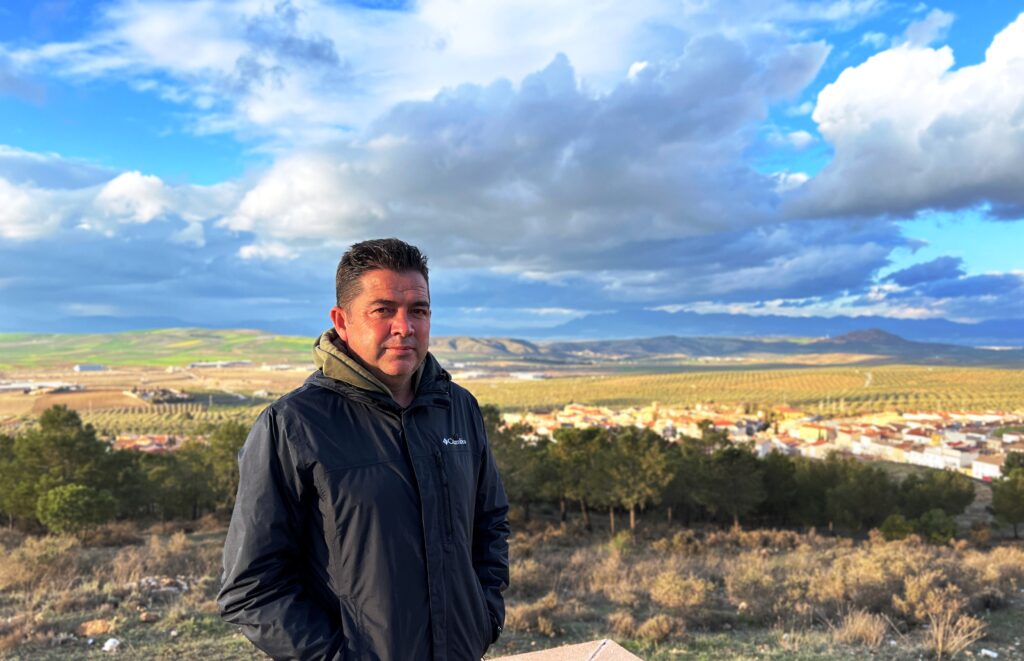 With 792 neighbours, the town of Escúzar in Granada has taken its place on the international scientific community's map since the signing of the land transfer agreement on which the IFMIF-DONES project will construct its particle accelerator. How did the residents of Escúzar welcome the news? How did they experience it in the previous months?
With great joy and expectation. Although it wasn't until we started receiving visits from prominent politicians at regional and national level that we became aware of its significance. In fact, there is now a lot of enthusiasm and hope among the neighbours in both the town and the region.
The announcement of the construction of the particle accelerator has led to a boom in the Escúzar Industrial Park, which has already attracted investment from large companies. From which sectors are the companies that have already set up and those that are planning to do so in the short term? What investment does it represent not only for the industrial park but also for the municipality of Escúzar?
It covers a wide range, from the food industry, as well as pharmaceuticals, to logistics platforms. As far as investment is concerned, it is quite important, as these are powerful companies both nationally and internationally, with a total of approximately 130 million euros invested in the last year.
What is the forecast for the number of jobs that will be created in the municipality and in the region of Alhama? What do these figures mean in the fight against depopulation in some regions?
I don't like to talk about specific figures when it comes to job creation, but we are sure of one thing: it will affect the economy and employment in a brutal way. And not only with the accelerator, but with everything that this project entails, auxiliary companies in logistics, construction, services, catering, maintenance, and technology. This offers a wide range of possibilities in terms of the labour market and its different areas.
Will the population of Escúzar grow? What can professionals who work in the industrial park and decide to settle and live in Escúzar find?
Of course, the population will increase, in fact it is already increasing. At least our population is not decreasing as it is happening in many other villages. We believe that it will be like a small industrial revolution, and this will undoubtedly affect the growth of our town and the other towns in the region. As for the workers who decide to stay and live in Escúzar, here they will find a quiet, welcoming village that is gradually growing in services and facilities. For example, we did not have fibre optics in the municipality just 2 years ago, and today we have several companies that offer their services in Escúzar.
It is worth highlighting our proximity to the capital of Granada, with all its leisure, commerce, and culture, as well as our proximity to the ski resort of Sierra Nevada and the Costa Tropical (only 45 minutes away by car).
In this sense, will there be an urban development that responds to these growth needs beyond the services that the industrial park itself can offer? For example, new housing for permanent use and hotel accommodation for technicians working on a temporary basis. Is there a PGOU (General Urban Development Plan) underway in this regard?
We have already been working in this direction for several years, reinforcing new canalisations, water and sewage infrastructures, as well as improving public spaces. One of our main objectives is to make Escúzar an attractive and competitive town so that people choose it as their first option when considering living in our region. And, of course, we will do everything we can to ensure that our town grows and develops in a sustainable way without forgetting our traditions and customs. We do not want to become a dormitory town. What we want is for our town to develop and for the people who come to live here to feel that they are another escuceño.
Will all this result in improvements for the municipality in terms of communication infrastructures? What will the new connections be?
Actually, this is already happening. The section of the A-338 regional road that crosses the industrial estate was recently opened. The Junta de Andalucía has also committed itself to repairing the section that links the metropolitan park with the A-385 road, which also connects us with the second ring road or dual carriageway. On the other hand, given the scale of the particle accelerator project, we do not rule out the possibility of bringing a new direct road from the business park to the motorway itself. And, of course, we will also have to increase the number of buses that arrive daily from Granada and leave again from our municipality to the capital.
In many of your public statements, you have shown your enthusiasm for Escúzar to become the "cradle in which this type of energy is developed". How do you assess this challenge?
Obviously, and in addition to all the economic, social, economic growth and development repercussions for the region, to be able to say one day that in our province and, more specifically, in Escúzar, a solution to the planet's energy problems was found, will be a source of great pride. I hope that one day the generosity of the people of Escúzar will be honoured, as they have always been committed to this project with global repercussions, generously giving up part of their heritage in pursuit of a better future for mankind.